Corvette Show & Shine Registration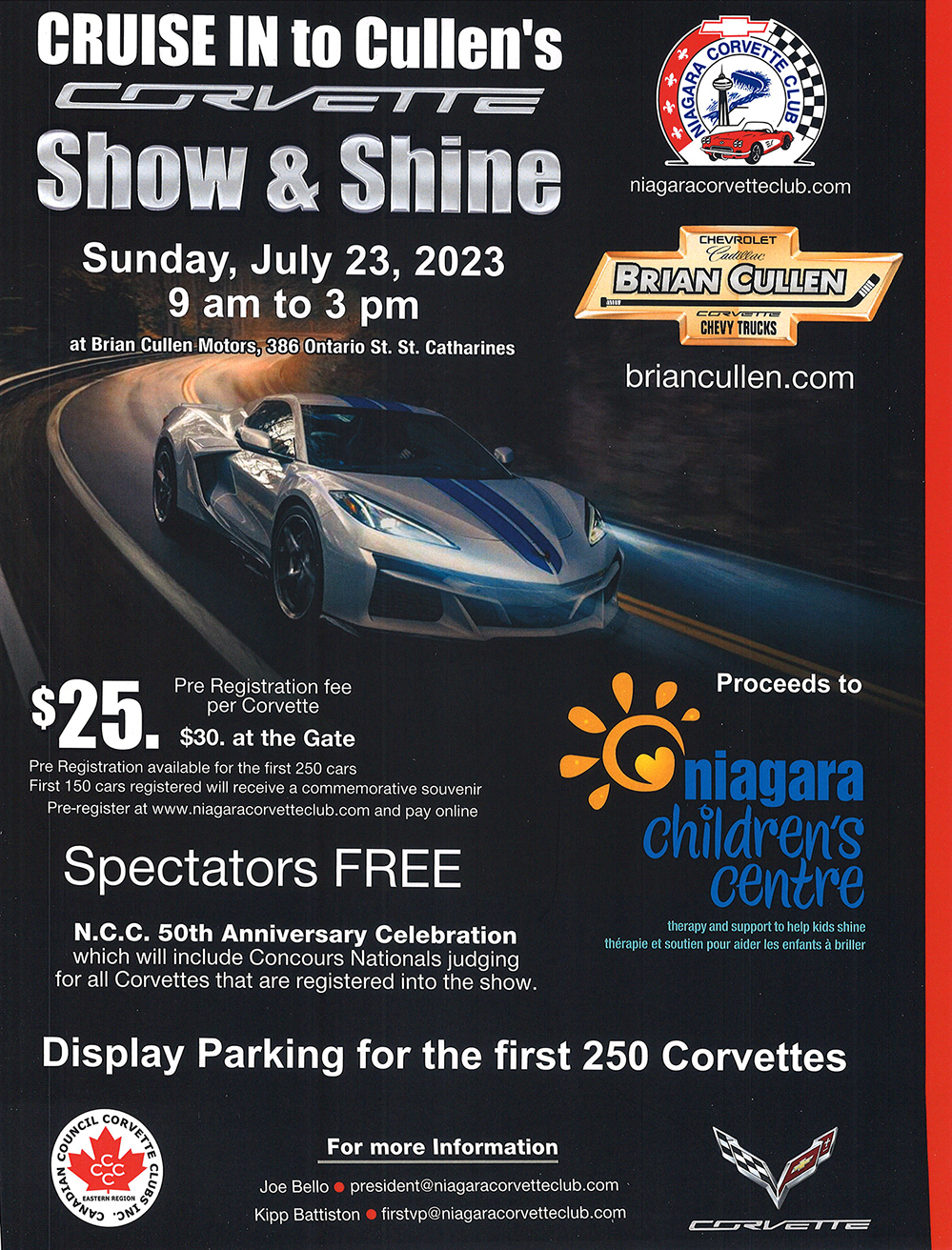 This is the 2023 Canadian Council of Corvette Clubs: Eastern Region Concours Nationals event! The Judging Sheets for each level can be downloaded below for your reference.
Limited spaces available so please pre-purchase your entrance fee below. The first 150 cars registered will receive a commemorative souvenir.
There are 10 spaces for the Signature judging series (must be CCCC members). If you wish to compete at this level, please select that ticket option ($25 + $50 CCCC-ER Signature Fee) below and fill out the secondary form linked below.
If you want to participate in the "Concours Prepared" or "Street Show & Shine" Judging Series, please select basic entrance ticket ($25) below and subsequently fill out the form linked below.
As always, spectators are free, but there is limited onsite parking available.
JUDGING SHEETS & ONLINE REGISTRATION FORMS
Introduction to the CCCC-ER  Corvette Show and  Participation Programs (PDF)
Signature Concours Series
Signature Event Guide (PDF)
Signature Judging Sheet (PDF)
Registration Form (pre-registration here is required in addition to the purchase of your $75 ticket)
Concours Prepared (Open Hood)
Combined Prepared and Street Divisions Event Guide (PDF)
Concours Prepared Judging Sheet (PDF)
Registration Form (pre-registration here is required in addition to the purchase of your $25 ticket)
Street Show & Shine (Closed Hood)
Combined Prepared and Street Divisions Event Guide (PDF)
Street Show & Shine Judging Sheet (PDF)
Registration Form (pre-registration here is required in addition to the purchase of your $25 ticket)